Support Natural

Hair Growth
Folexin includes vitamins, minerals and natural herbal extracts and is used to support healthy hair.
‍ Professional formula for visibly radiant, strong, and beautiful hair.
‍ Supports your hair's natural growth process.
‍ Supports thick, strong, healthy hair.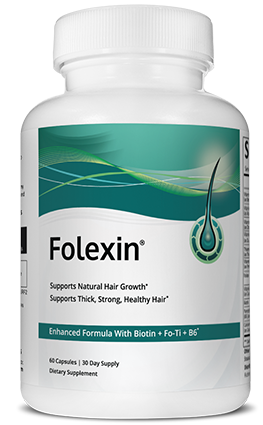 Introducing Folexin
Folexin is a formula made with vitamins, minerals and natural botanicals that helps to support overall hair health, thus supporting the natural process of hair growth and the visible quality of your hair. If you're looking for a way to supplement and nourish your hair's health, or provide support for your hair's natural growth process and quality, then Folexin may be the solution for you.
Folexin ingredients featured in:

‍
‍
High-Quality Ingredients
Folexin is made with quality ingredients that help to support the natural hair growth process.

‍
With Vitamins, Minerals and Herbal Extracts
The ingredients in the Folexin formula have been chosen to work together synergistically to support your hair's health.

‍
Made in the US
Folexin is made in the US within an FDA registered facility that follows GMP guidelines. Ingredients in the formula are both domestic and imported.
Understanding Natural Hair Growth
The natural hair follicle life cycle consists of three distinct stages. These stages are the anagen, catagen, and telogen stage. Understanding what happens at each of these stages is essential to understanding the natural life cycle your hair follicles go through.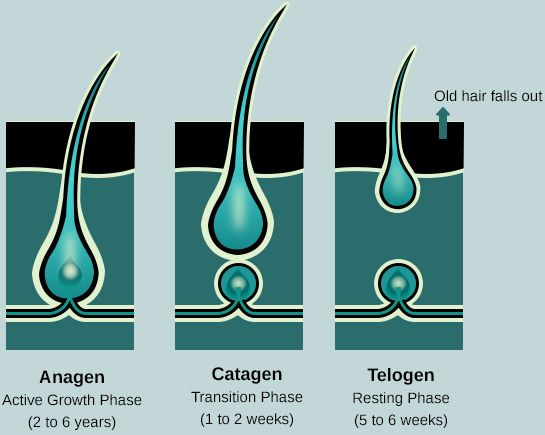 As you can see in the hair growth diagram, the hair growth process begins with the anagen phase. The anagen phase is also referred to as the growth stage, and can typically last for a period of two to six years. Interestingly, there is evidence to suggest that the anagen phase is also ethnically variable, with one example being of people of Asian descent actually averaging around a seven-year anagen phase.
In comparison, the catagen phase is very short-lived. Also referred to as the transitional stage, the catagen phase is exactly that, the transition of the original hair making room for a new hair follicle. This period typically lasts around ten days.
Third and finally, your hair then moves on to the telogen phase. Also referred to as the stationary stage, the telogen phase is when your hair is released from the original follicle and then falls out. The remaining follicle then sits patiently for up to three months before the entire three-stage process is repeated again.
Each hair follicle is independent and therefore the timing of each hair through these three stages is staggered.1
Folexin Key Ingredients
The Folexin formula is made with nutritional ingredients that host a number of benefits.
Biotin
Biotin, otherwise known as vitamin B7 or vitamin H, is a water-soluble vitamin that is a member of the B-vitamin complex. The B-vitamin complex is a group of key nutrients needed for healthy metabolic, nerve, digestive and cardiovascular functioning. Biotin works with sulfur in the body to play a role in supporting the hair growth cycle, and is commonly supplemented today for supporting healthy hair, skin, and nails.2
Fo-Ti
Native to China, fo-ti has been used in East Asia for centuries as a means to support general health and anti-aging. It's traditionally believed to help support the natural hair growth process.3
Other Ingredients
The Folexin formula includes a range of natural ingredients that together assist in the support of strong, healthy hair.2,4-15 The formula can be found in the nutrition panel provided.
Folexin Benefits
The ingredients inside Folexin may play host to a number of benefits relating to general hair health and supporting natural hair growth. These ingredients can also help to support the health of your skin and nails.5,12,14
Supports Thick, Strong, Healthy Hair
Your hair is constantly tested by the elements. Chlorine pools, UV from the sun, smoking and alcohol can all take their toll on your hair. Optimal nutrition can help you maintain optimal health and support the strength and quality of healthy hair.2,8,11,12
Supports The Natural Hair Growth Process
The Folexin formula works synergistically to nourish healthy hair growth. Key ingredients that support hair growth include iron, vitamins A & C, zinc, silicon and the B-vitamin complex.2,4-6,8,12,15
Supports Your Overall Hair Health
Folexin helps to support your overall hair health. Biotin works with specific enzymes in your body to support the development of certain proteins involved in maintaining strong, healthy hair. 2,9,12,13
What Can I Expect?
Support for thick, strong, healthy hair.
Support for your hair's natural growth process.
High-quality ingredients, third party tested.
What Should I Not Expect?
Overnight success. Folexin is designed to support natural hair growth, however, as with any formula, it will depend on other factors and influences such as your lifestyle and diet.
Miracle cure. Folexin is designed to support the natural hair growth process; it's not a hair loss treatment.
500+ 5-Star Reviews
Already a customer? Write your review now ‍
Finally Rusults! -
Sarai L Virden
I am 56 and rocking my new silver locks after shaving off my dull dry breaking over colored and heat processed hair last year. The disappointing part was that my new silver locks though beautiful were still very dry, the front was straight and silvery white and the back was darker grey and curly and dry! Three weeks in taking Folexin and my hair is not just shiny it is actually oily on top after shampooing twice! There is no more breakage no more dryness. Its healthy and strong. I have been taking both pills together in the morning and not sure if I need to space them out or maybe just take one but this product has given me the hair I've always dreamed of! Thank you, thank you. Thank you 😊 I have taken the much more expensive brands and never had these results. I haven't seen super power hair growth but if it doesn't break off it will be long soon enough! All this and after only 3 weeks is AMAZING!
‍ Yes, I would recommend this product
Loyal and satisfied customer -
Mylo
I've been taking Folexin for nearly two years now. I have thicker, silkier hair in my 30s after kids than I did in my 20s! It's absolutely a hair supplement and not a hair loss treatment, but it provides all the support you need to grow healthy, strong hair. I have a large undercut, everything from my sides and below my ears is shaved, and my ponytail is still thicker than most people's full head of hair! You won't regret adding Folexin to your supplement stack!
‍ Yes, I would recommend this product
I just went with my gut on this product. I knew nothing about it. I saw online it was being compared to, or even better than Nutrafol. I don't know too many people that can afford Nutrafol every month... I know I can't, so I gave Folexin a try. I've only been taking it for 14 days, as of today, and I have hardly any hairs fall out during my shower, or when I brush my hair. I've also noticed a difference in the texture. I have a really good feeling about Folexin. I will probably update at the 3 month mark. I'm so excited!
‍ Yes, I would recommend this product
Gave me my mind back -
Joyce
I lost A LOT of hair after having COVID. My body likes to shed hair after going through a stressful time but this was A LOT of hair. After taking Folexin for 3 months, my hair is back to being fuller, I get comments from friends and family and I recommend this to everyone who asks! This product gave me a peace of mind of knowing my hair is still healthy enough to regrow! I'm in for my next 4 bottles!
‍ Yes, I would recommend this product
Click here to read all reviews.
Media
The ingredients found in Folexin have been exhibited in many mainstream media outlets.

"Biotin has many benefits for your body. Its primary role is to help turn the food you eat into energy. Your body also needs it to produce keratin — the type of protein that makes up hair, skin, and nails."
Published by Healthline, March 2023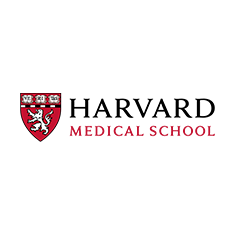 "A healthy diet is one of the best ways to maintain healthy hair. Specific vitamins are associated with improving hair health by how they convert food into energy. The major ones are the B vitamins B1 (thiamin), B2 (riboflavin), and B7 (biotin)."
Published by Harvard Health, November 2022

"Diet is a major factor in the condition of your hair, skin and nails . . . When you're getting the right amount of vitamins and minerals every day, your body will function better. That means hydrated skin, shiny hair and strong nails."
Published by Mayo Clinic, May 2022
Buy Folexin
Support your natural hair growth process with Folexin, order 4 months supply and receive 1 bottle free.
FAQs
Below are some of the most frequently asked questions by our customers
‍Taking Folexin
Do I need a prescription for Folexin?
Folexin is available for purchase without a prescription.
How do I use Folexin?
Folexin is for adults only. Take two (2) capsules a day with food or as directed by your healthcare professional. Do not take Folexin within one hour of taking medications. Do not exceed the recommended dose.
Caution: Women who are pregnant or lactating or anyone taking medications should consult a healthcare professional before using this or any nutritional product.
I don't enjoy swallowing capsules. Do I have any other options?
While the Folexin capsule can be taken apart and absorbed in your favorite drink or food, we would not recommend this due to the taste. As this capsule contains compact powder, we would also not recommend splitting the capsule in half and attempting to swallow the halves.
What do you mean by 'do not take Folexin within an hour of medications'?
Put most simply, some of the ingredients in Folexin might reduce the effect of some medicines. If you are taking any medicines, you must talk to your doctor about Folexin before taking Folexin.
How long does it take to start experiencing the benefits of Folexin?
Folexin is designed to support natural hair growth, however, as with any dietary supplement, its level of support will depend on other factors and influences such as your lifestyle and diet. Bear in mind that hair grows only a quarter inch to a half inch per month (between 6 and 12 mm), so judging the support of hair growth by length is difficult. But healthy hair growth has many more visible signs. Nutritional products tend to work gradually, but it really depends on the individual. Some customers have started seeing results within a few weeks and others started noticing the effects after a couple of months.
Is Folexin a unisex product?
Yes, the benefits of Folexin can be enjoyed by adults of any gender or hair type.
‍Shipping, Sizes and Quantity
What are my delivery options?
We have global distribution to 20 countries worldwide. This list of countries is available in the first step of checkout.
Orders are processed immediately and shipping depends on which option you choose:
| Description | Price |
| --- | --- |
| USPS - Standard (3-5 business days) | $4.95 |
| USPS - Second Day (2-3 business days) | $9.95 |
| UPS/DHL/USPS – Tracking International (12-15 business days) | $9.95 |
How many capsules are in 1 bottle of Folexin?
Folexin contains 60 capsules in every bottle. This is equivalent to a 1-month supply.
How big are the capsules?
The capsules are standard 00 size, which are less than an inch long (23mm).
Can I return my unopened bottles of Folexin?
Yes, we stand behind this supplement 100%, so we're more than happy for you to return your unopened bottles of Folexin within 5 months of purchase.
Voluntary returns are valid at our sole discretion. Any reimbursement will be determined using the average cost to you per bottle (including free bottles, excluding shipping). See our Return & Refund Policy for more details.
‍Ingredients and Restricted Diets
Is Folexin free of common allergens?
Folexin contains Soy. This product is manufactured and packaged in a facility which may also process milk, wheat, egg, peanuts, tree nuts, fish and crustacean shellfish.
For uncommon allergens, please check the ingredients list.
Is Folexin a vegetarian product?
Yes, Folexin is a vegetarian product. It is not vegan, however, because of the inclusion of Vitamin D3.
‍Certification and Manufacturing
Are these certified by the FDA?
The FDA does not certify dietary supplement products, such as Folexin. However, Folexin is manufactured in an FDA registered facility that follows GMP (Good Manufacturing Practice) guidelines.
Where is it manufactured?
Folexin is manufactured in the US from quality imported and domestic ingredients.